If you are looking for the top 10 Android Apps for tablets, then here are a few to consider. The Android Tablets have not been spoilt with a plethora of tablet-specific apps as the iPad has. This may be down to the fact that initially there was an Android tablet-specific operating system, and now today's tablets running on Android 11, which is meant to be Google's cross-platform operating system.
Top 10 Android Apps for Tablets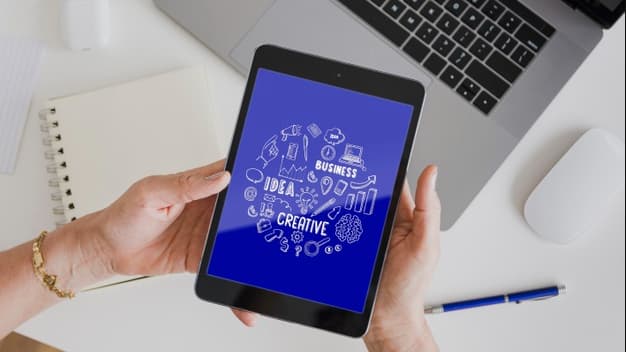 Still, there are a few examples of Android Apps developed specifically for tablets or apps that have been enhanced for tablet use, and the rest are made up of great Android Apps that I think work really well on a tablet.
Flipboard for iPad really sets out how a tablet can present enhanced news and publications in a really cool, magazine-style, and user-friendly way. Google's answer? Google Currents. You now get loads of your favorite and free publications in editions specifically for reading on tablets (and mobiles) – with in-depth articles or enhanced media such as photographs or videos. This is all about bringing magazines alive. You can select your favorite magazines or newspapers *(that have Google Current versions), and add them to your library. You can include feeds and blogs, and it also has a "what's trending" section.
This has only been available in the UK for the last few weeks, so I expect more UK-based publications to start having the Currents edition. The Guardian has, and so does METRO (the newspaper everyone on the Tube (subway) reads, but there are quite a few such as The Sun, and The Independent.
I enjoy reading my papers via this, and it is easy to share interesting articles or blog posts.
Pulse always looked great, and a bit like Google Currents (although pre-dates it) collates and presents feeds and blogs in a user-friendly and engaging style. And while I enjoyed it on my phone, on a tablet it looks so much better. It doesn't have the enhanced editions like Google Currents does, but still a great way to aggregate feeds and blogs.
I use to stay across my key areas of interest – and once again, sharing is made very easy. It is highly customizable, and because it relies on blogs and feeds, in terms of country-specific publications or blogs you can make it as UK-centric or as US-centric as you like.
Although I originally got this on my phone, I find it really useful on a tablet. If I am walking around with my tablet, then I don't have two free hands to type – so this "swipe" method of inputting text is really effective on a tablet. It is very fast and intuitive and makes rattling off quick emails or texts a doddle.
There is little to no learning curve. You just swipe the keyboard spelling out what you want – you don't have to be that accurate, and it guesses (really accurately) what you are trying to spell.
It comes with loads of skins and is multi-language compatible. It features as one of the Google Play Editor's Choice. And I have to agree.
It took a while for a tablet version to be made available, and you will need Adobe Flash Player. But the BBC iplayer (currently UK specific) has always been a great way to catch up on BBC programs for the last 7 days – so I was very excited when it was finally readied for Android tablets.  It now allows you to watch over 3G (but heavy on the data plan) as well as wifi.
So this has a version for phones and one specifically for Tablets. It is another news aggregator, but one that analyses your reading habits – and finds suitable news or topics from over 20,000 different sources across the web.  What you can do is have it analyze your Facebook newsfeed, Twitter feed, Google+, even Evernote and then find the most relevant stories to you. And you know what, it is pretty good at finding things you are interested in.  It will even find local news using your GPS and WiFI to determine where you are.
You can find a story you interested in, then get a "360 view" – to find related stories and perspectives – and that can be quite fun and enlightening. My one small gripe is that it has a bit of a US leaning when it comes to sourcing news, and I would prefer more from UK-based sites, but overall.
This is one of those things that was initially developed for the iPad first, so again, it is a tablet-specific app. It is a paid app, but if you are into photography and graphic design, it is a powerful tool to have. It has loads of features from Photoshop – so it probably helps if you are a regular user of Photoshop and know your way around.  You can even search and find images using the integrated Google Image Search.
This was already pre-loaded on my Archos 80 g9 Tablet – as one of the features of the Archos is its media playback functionality. This collates and finds all the latest cinema trailers and updates on movies. It provides a synopsis, cast, movie and actor search, film posters, and cinemas where films are showing – as well as, of course, showing you the trailers.
It is by far the best movie trailer app, fast and easy to use.
I am a serial note-taker. I'm constantly seeing or finding useful things and wanting to make a note of them. So I use Evernote… A LOT! So I have the desktop app, mobile phone, and on my Android tablet – and it syncs across the lot.
Evernote for Android now has some features which are enhanced for tablet use. It is easy to organize ideas and thoughts, it captures photos, web pages, voice reminders. I can't recommend enough, especially if, like me, you are a bit of a scatterbrain, or work on multiple projects or ideas.
Although Google has its own Google Book app, I find the Kindle version much easier to use. The advantage of Kindle on a tablet is that it is a lot easier to read than on a phone. I tried reading novels on my little old phone, but it didn't really work for me. Now I have an 8inch tablet – this is ideal for using as a glorified Kindle on the train, or wherever. There are loads of FREE books on the webs (not all on Amazon), especially classics – which I love, so you can catch up on your Dickens or Bronte – or the latest airport blockbuster if that is more your fancy.
Netflix only entered the UK market recently, and although Google is offering movies through Google Play, my first experience of streaming movies on my Android Tablet was with Netflix. With loads of films and tv programs, you can watch instantly. My gripe – not enough decent movies yet.
I have yet to try movies from the Google Play library, but again, more of a selection would be useful. Let me know if you have any recommendations for Android Apps that work really well on Android tablets. For me, it is productivity and media that is key. Looking at films on small phone screens doesn't really do it for me. So what makes your top 10 Android Apps for Tablets?