Everyone is glued to their phones these days. Whether you are texting, surfing the web, scrolling through your social media feed, watching TV series or movies on Netflix or other OTT platforms, or playing games, there are countless activities that you can do on your phone. Since you are investing so many hours on your mobile phone, it makes complete sense to make some money while having fun. You can check the list of Android Apps To Earn Real Cash and make real money while playing games online. 
Top 5 Android Apps To Earn Real Cash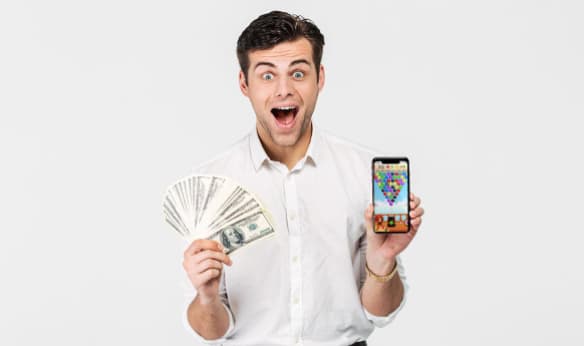 Although you won't be earning enough to quit your job, you will make extra money to pay for your regular expenses. It doesn't hurt to have a little extra cash at the end of the month. So read along to find a compiled list of the top Android game apps that you can download Android Apps To Earn Real Cash.
MPL Cube Solitaire is a gaming application that offers unlimited entertainment and opportunities to earn cash. If you have played the Solitaire card game before, getting the hang of Cube Solitaire will not be challenging. The game is a version of classic Solitaire but with slight changes in the rules. 
Cube Solitaire on MPL is played with 52 cards and four suits. The primary goal is to create a sequence from Ace to King in alternating colors but of the same suit. Once the sequence is complete, you must transfer it to the foundation pile. Players can play a tournament or match in a 1V1 format. The game lasts for five minutes, and the objective is to score higher than your opponent. To participate in tournaments and play Solitaire Cube for money, visit https://www.mpl.us/cube-solitaire.
Swagbucks is one of the popular apps that offer rewards to its users. It is easy to sign up for this app, and you can use your smartphone or computer. The app provides a comprehensive range of ways to earn points, called Swagbucks. Users can search the Internet, take surveys, sign up for offers, watch videos, use the app's shopping portal, or play games. 
The games hub of Swagbucks offers different games that users can play for free and earn reward points. If you are confident, you can play head-on-head competitions and earn money. The catch is you have to pay an entry fee. 
Blackout Bingo allows users to play their favorite bingo game with a competitive social twist. You can play bingo here to win cash prizes and real money. The rules remain the same, and you need to daub the numbers appearing on your screen. 
However, it isn't absolutely necessary that you have to play bingo for real money. Instead, you can choose to play free games for productive entertainment. 
Blackout Bingo stands out because players are not bombarded with ads every two minutes compared to other gaming apps. As you continue to play, you can get higher rewards. Furthermore, when you play for cash and deposit money, you have the option of withdrawing your balance anytime. First, you need to tap on the Withdraw option on the main menu. The withdrawal will be processed using the form of payment you used as your deposit, either credit card or PayPal. 
The only shortcoming of this application is it may suddenly stop working, and you have to restart the app. But if you report a bug, you will get your money back. 
Pool Payday is an application enabling players to compete against other real-life players from across the world. You can play for free or with real cash and virtual currency. When you deposit money and win the game, you can hope to win cash prizes and money. The app is one of the most ultra-realistic pool games that you can find online. 
The concept of the game is straightforward. You will play billiards against online players for cash. You can select between two game modes – turn-based or real-time. You and your opponent will take turns to take shots and score points in the latter. 
To earn cash, players need to score the most points. Furthermore, players can play offline games to practice before playing for money. The practice games can be played for free, and you can sharpen your skills. 
The games are also live against people who bet money. So, if you are good at playing online pool games, you can download and get started. 
MISTPLAY is an application that pays players to play games. The app offers fantastic opportunities to people looking to make money and get paid by doing something they love. For instance, you can find gift cards for playing games on your smartphone. So instead of playing games for pure entertainment, you can be productive and add some money to your pocket without wasting too much of your effort. 
The app is different from the others on this list because you do not have to wager any money. Instead, it would help if you played games, and the app would pay you for your time. First, of course, you need to download the app right away to see how it works. 
Download Paid Apps for FREE: Apps4iPhone
Conclusion
There's no more waiting around because you can download these applications and start making side money. As you make money, you will be doing something that you enjoy – playing games! 
Stop thinking and download Android Apps To Earn Real Cash. These apps will keep you occupied and help you make extra cash.