When it comes to content creation for the busy, fast-growing and fast going world, video content is the best way to engage more people. But, it requires some certain skill set to edit videos and make them eye-catching. If you are a new person to video content creation and editing them, it's even harder to edit videos.
How to Edit Videos With Apps?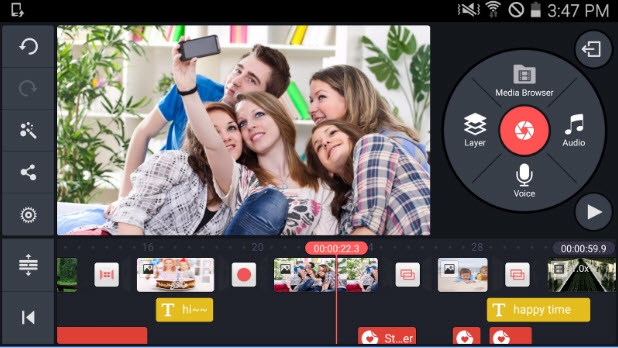 In this article, I will get you through the tips and tricks that can make your video editing skills get started or take it to a whole new level if you know the basics.
Get and Check your Rig
Before you get started with video editing, it's important to know what things you are going to need in order to edit the video. The very first thing about video content creation is the shooting process which is the raw footage. You want to take the raw footage with as high resolution as possible. Taking very high-resolution raw videos is very easy these days, Taking footages in 4K resolution is a better way to start filming, it can get you better final output at the end. 
But editing raw footages that are taken with a very high resolution takes a lot of pressure on the editing rig which is your computer. So, make sure you got the right CPU Setup to get the job done. Although a 1080P resolution video is fair enough to be called high quality, it's always not the same case, especially If you are doing it commercially. Today is the age of tv and monitored with huge size and 4K resolution. So, make sure you produce content that is compatible with the latest rig.
Keep Track While Shooting
When you are shooting your raw films, it's important to keep track of them in order to keep yourself headache-free. If you don't keep track of your raw footages and don't have any discipline to maintain, it's going to be a disaster when you will start editing your videos. You'll see that your raw videos are making you wondering here and there but not finding the appropriate footage you took for the particular set. 
What you can do to keep a good track of your footages is to give it a good naming setting whereas the footage will be named in a chronological aspect, such as footage will be named as Vid 01 followed by 02, 03 and so on. 
Choose your Editing Software
Now, depending on how extensive editing you are going to do, you have to choose a good video editing software to cut, edit and color grade you raw film and produce a great piece of content. You can go for the best available video editing software like final cut pro or Adobe premiere pro if you have the huge skills and very high-end PC requirements they need. 
But as a new person to the editing world with limited resources both in rig and skill set, you may want to go with an entry-level video editing software that needs less a specification, nor that many skills to operate, but strong enough to produce quite a high-quality video content. You can try VSCO as a great starter for instance. You can also free download VSCO for PC, Windows and Mac, the source for more information.
Audio quality and Color grading
While shooting the video, make sure you are getting enough light on the subject, but be sure not to burn it. Another thing is to make sure the audio quality is very high so that the audience can hear the audio without any hassle. The audio makes half of the impression of your video content. Even after taking a noise-free quite a good quality of audio, there could be some problems with the audio like noise, cluttering and excess sound of other sources. Make sure to review your audios of the taken footages and make sure you tweak the dial a bit to get crisp and clear audio. 
The second thing is the color grading, which can be considered as one of the main impression drivers of a video. A well-optimized color graded video can provide a high-quality engagement from the viewers as compared to the raw original footage. So, make sure you color grade the whole footage before you through it to the rendering process. 
Keep it Simple and Short
A most essential thing in video production is to keep it as short as possible and as clean and simple as possible. Effects and transitions in a video definitely make your video way more exciting and attractive without any doubt. But, when you are using it too much, it may get into your quality of video and can become a hedge between you and the audience. 
Think about the audience, what do they want from the video? If the audience likes to see you jump from clips to clips, it's okay to do so. But in general, jumping between clips or putting in excessive transitions and colors may discourage the audience to keep watching.
Final thoughts
No matter what kind of video you are producing, make sure the raw footage is taken in order, the audio should be clear and crisp, choose the right tool to edit and give it a classy look to attract more viewers and keep them with you.