Play GTA 5 on Smartphone – GTA 5 is one of the most hit gaming titles among the Grand Theft Auto franchise. It's been almost eight years since its initial launch, but its popularity and users are only booming. 
Grand Theft Auto is an open-world action game that employs players with many actions, vehicles, ammunition, missions, and gameplay of 3 varied characters. GTA has wholly dominated the PC games and Console gaming platforms since its first appearance. And now, the Grand Theft Auto version 5 is in play. 
GTA 5 can be played through PlayStation 3, PlayStation 4, PlayStation 5, Xbox 360, Xbox One, Xbox Series X, and can also be ported to Microsoft Windows. However, the popularity of GTA 5 has soared due to its first-ever introduction of three characters out of all the iconic series. These protagonists are known as Trevor, Franklin, and Michael. 
How to Play GTA 5 Mobile?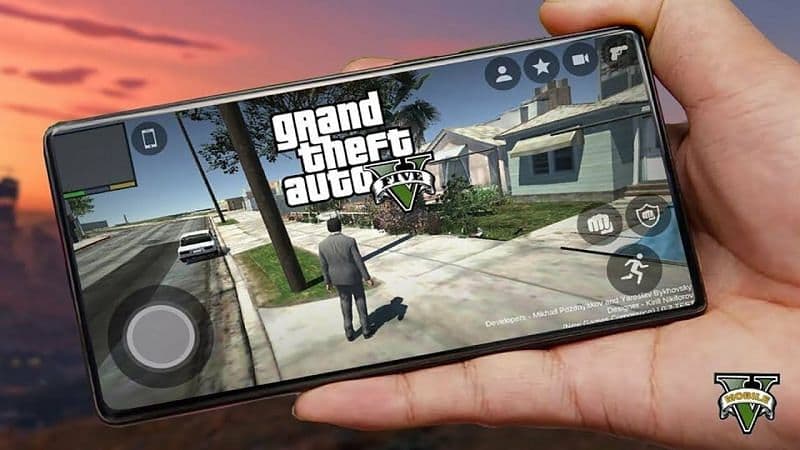 Grand Theft Auto is one of those gaming series that is to be played more on big screens. But, GTA enthusiasts are demanding the game to be played on their mobile devices. Well, the developers have created some distinct ways for you to play GTA 5 on mobile devices. 
Therefore, in this post, you can find the technique on how to play GTA 5 using Steam Link on mobile phones. Steam is an application that serves as a legal digital distribution channel for video games. 
Play GTA 5 on Smartphone – Complete Procedure
Below is the step-by-step procedure to bring the excitement of GTA 5 mobile using the Steam Link. Before you proceed with the steps, do not forget to connect your phone to the PC or desktop using the Steam Link.
Step 1:
Take your mobile device and download the Steam Link app in it. 
Step 2:
Now, using this Steam Link app, start pairing your mobile device with the PC. 
While you are playing GTA, do not make the mistake of shutting down the PC or desktop. Because the visual that you are getting on your mobile device's screen is transitioning through the PC only. 
Step 3:
When the pairing of your mobile device and the PC is complete, press on the "Start Playing" button that appears on the connected PC. You can now start the game. 
Now, whether you use a pair of the controller or just use the touch control to play the game, it depends on you. There is no set rule for that. 
Step 4:
Although the game will run on the PC, the same gameplay will be mirrored on the screen of your mobile device. 
Step 5: 
Now, take your mobile device and hover toward the Steam Library. Find GTA 5 and select it. 
Step 6: 
Finally, click on the GTA 5 play button to begin your GTA gaming session. 
These above-mentioned simple steps are all you have to follow to play GTA 5 on your mobile devices. But note that your PC or desktop must be of high quality to smoothly run the GTA game along with a strong internet connection. As not all PCs support such console games. 
Since Grand Theft Auto is an online console game, you cannot do anything without good internet. So, mind that the internet connection on both your mobile device and the PC or desktop must be from the same local source. 
And another critical thing to remember is, your Steam account must have GTA 5 installed. 
If you did not have one, click on this link to download it: https://mobilegta5.mobi/gta-5-apk.html. 
The GTA gaming series is not designed to be played initially on mobile devices. So, if you don't connect to a PC, you can neither download nor play GTA 5 on your mobile devices as a standalone game.