Watch your liked YouTube videos on your car's big screen with a special app called CarTube IPA. If you watch YouTube a lot and like watching videos while moving, CarTube iOS 15 is the CarPlay answer you need.
Currently, YouTube doesn't work with CarPlay App on iPhone. The reason is pretty simple: letting people watch YouTube videos while driving isn't safe. Let's dive into the article to learn more about CarTube.
CarTube is a special app that lets you watch your top YouTube videos on your car's big screen. If you're a big fan of YouTube and like watching videos when you're out and about, CarTube is the CarPlay answer you've been waiting for.
CarTube IPA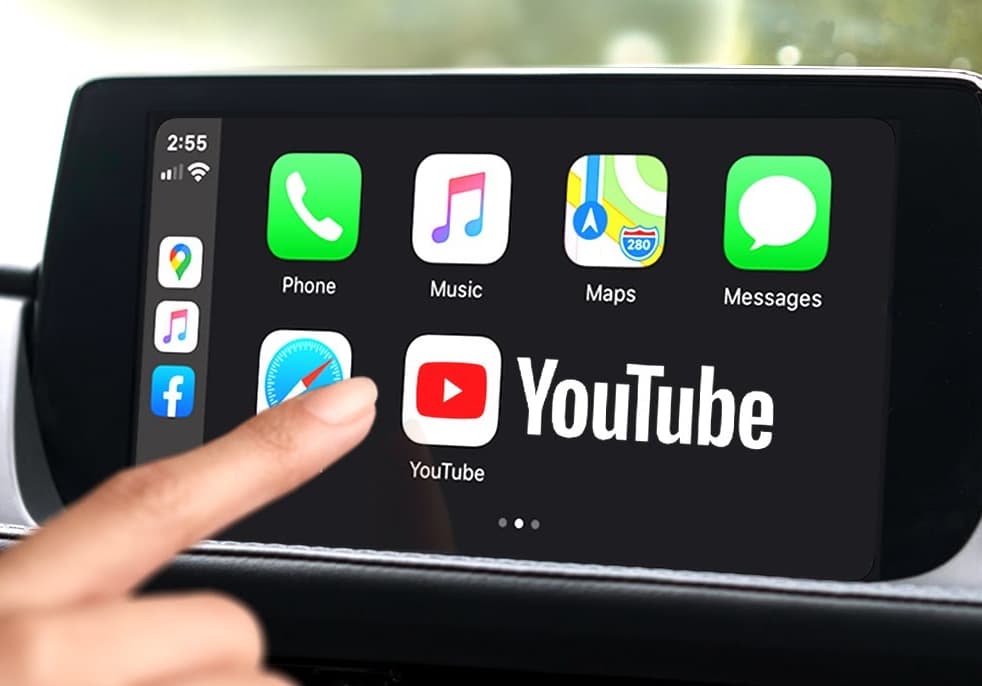 What is CarTube?
CarTube, available through TrollStore, is a fresh app that lets you watch official YouTube videos using CarPlay. It works with all devices that are TrollStore-friendly and uses iOS 14 to iOS 15.4.1. The app lets you see and hear your top YouTube channels right on your car's display.
CarPlay is a tool in cars that lets you manage your iPhone and its apps using the car's entertainment system. It helps you use maps, make calls, play music, and send messages without using your hands, it listens to Siri voice commands. CarPlay also makes using the iPhone in the car safer and less distracting. Now, YouTube is also available on it through CarTube.
However, CarPlay has a drawback: only a few outside apps work with it, and video-playing apps like Netflix and YouTube are limited for driving safety. CarTube IPA from Avangelista, installable with TrollStore, is a complete YouTube app, that lets you watch videos on your car's display using CarPlay support.
Two iPhone screens show the settings page of the CarTube app running on iOS 15.
CarTube gives you smooth YouTube use on CarPlay without needing a jailbreak. With CarTube, you can browse, search, and watch your top videos while moving. The app also comes with a handy ad-blocking tool named SponsorBlock (to skip frustrating ads during videos) and lets you get around age limits.
Also, CarTube gives smooth moving through videos with swipes back and forward anywhere. The "Play on CarPlay" share tool and quick pasting of copied YouTube links make moving from the YouTube app to CarTube easy. Simply begin a video on the YouTube app, enter your car, and it will show on CarTube for iOS 15.
All the features talked about earlier can be controlled from the app's Settings page, where you can turn them on or off as you wish. To begin using CarTube on CarPlay, just get in your car, connect your phone, and open the app.
Sometimes, you might need to tap your phone once to wake up the screen, but that's all the action needed. The app will keep your phone screen lit and dim the lock screen to make sure your viewing isn't stopped. If more steps are needed, CarTube will tell you.
If you'd like more power over what apps can be used on CarPlay, setting up the CarBridge tweak is your answer. CarBridge lets you upgrade your CarPlay use by letting all your liked apps work on the system, like YouTube, Netflix, or Plex.
CarTube Latest Release 2023-2024:
We're rolling out significant bug fixes and feature updates in this release to provide a more streamlined and enhanced experience of YouTube on CarPlay with CarTube.
Enhanced and more fluid experience.
Swipe in any direction, left or right on the screen, to navigate Backward or Forward.
Utilizes the native m.youtube.com player, ensuring functionality for ALL videos, along with comments and playlists, and overall smoother operation.
Introduces a "Play on CarPlay" share extension, compatible with the YouTube app.
Improved zoom-in settings that scale content accurately.
A bypass for age restrictions has been added.
Introduced an ad blocker (in beta).
Resolved issues with problematic scrolling.
Fixed the zoom on the Google sign-in page.
Repaired the malfunctioning keyboard bar.
Minor corrections to the persistence helper to prevent Siri from disrupting it.
CarTube 1.3 represents the most current release and you can download the newest CarTube.ipa using the button above from the CarTube GitHub repo. Subsequently, sideload this ipa using TrollStore.
CarTube IPA Features:
Utilize YouTube on the go with the CarTube CarPlay app, a comprehensive solution for YouTube viewing.
Key features include:
Enjoy comprehensive YouTube functionalities on CarPlay – navigate, locate, and view videos while driving!
Operates on any device that supports TrollStore, with no need for a jailbreak.
Eliminate ads.
Bypass sponsored segments utilizing SponsorBlock.
Overcome age restrictions.
Navigate backward and forward with simple swipes anywhere on the screen.
System features include:
The "Play on CarPlay" sharing extension.
Immediate pasting of any copied YouTube URLs.
Continuity in viewing: If you start a video on the YouTube app and enter your car, it will automatically appear on CarTube.
What Makes CarTube Outstanding?
Enjoy YouTube on CarPlay, no Jailbreak needed
Compatible with any device that supports TrollStore
Completely FREE of charge
Immerse in a complete YouTube experience on the CarPlay display
Successfully prevents irritating YouTube advertisements
CarTube stands out in its utilization of Apple CarPlay due to the splendid YouTube experience it presents on the CarPlay screen.
CarTube Supported iOS Versions and Devices:
Devices operating on specific iOS versions can utilize CarTube to view YouTube on the CarPlay display. These versions include:
iOS 15 – iOS 15.4.1
iOS 14 – iOS 14.8.1
If your device's iOS version is compatible, proceed with the steps below to install CarTube.
As of now, CarTube for iOS 17 has not yet been launched.
Presently, CarTube is compatible with car infotainment systems that facilitate touch throughout the entire interface. Nonetheless, the developer notes that it's possible to load individual videos using the app on your phone.
Download CarTube IPA and Install it on iPhone to Use on CarPlay:
CarTube isn't available directly from the App Store, so you'll need to use TrollStore to get it. Keep in mind, that some features can't be used with the usual installation, so it's restricted to TS on versions 14.0-15.4.1.
Here's how to install CarTube:
First, Install TrollStore:
Go to the TrollStore GitHub Repo on your iPhone.
Scroll until you find the Installation Guides and click the specific link for your iOS version and device.
Follow the instructions you find there to get TrollStore on your device.
Alternatively, you can also find the step-by-step installation guide on the CarTube Official Website.
Next, Download and Share CarTube with TrollStore:
Go to the CarTube GitHub repo and download the newest CarTube.ipa file.
Open the Files app and locate the downloaded CarTube.ipa.
Choose the CarTube IPA, then select Share, and pick TrollStore.
Once you've followed these steps, the CarTube app should appear on your home screen. Make sure to download the latest version of CarTube (1.3) for the best user experience.
How CarTube Works?
Installing CarTube on iPhones running supported iOS versions can be effortlessly done by sideloading the CarTube.ipa.
The highlight is that CarTube operates without a jailbreak on any iPhone that is compatible with TrollStore.
Troubleshoot Notes on CarTube IPA:
To prevent compatibility challenges and to ensure optimal performance with the corresponding iOS versions on supported iPhone models, please heed the following aspects.
Always download the most recent CarTube.ipa from the CarTube GitHub repo when installing CarTube
Ensure you are utilizing the newest version of TrollStore
Adhering to these practices will ensure you receive the latest bug fixes and optimizations for enjoying YouTube on CarPlay with CarTube.
More Related Guides: