Swamp Attack game is a combination of tower defense and Plants vs. Zombies. You have to defend your home from alien attackers. These invaders have special powers that range from raccoons paddling over dynamites to pesky UFO's that steal all your power-ups. It's up to you which weapons you have to use to defend your home. 
Swamp Attack Gameplay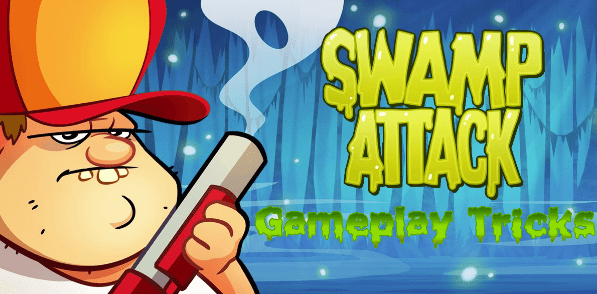 Your character is positioned at a stationary point on the left side bottom of the screen while you tap targets that are coming towards you from the right side. Your weapons are usually effective but you have to time your shots very accurately because reloading will take time. 
Apart from the normal guns, you have some additional power-ups like Molotov Cocktails and Dynamite Sticks that can explode and give you enough time for reloading. These powerups are largely effective on a big group of enemies. To use a Molotov or Dynamite you have to select the powerup and drag it using your finger while taking an aim towards your enemies. Molotov is your best powerup as it can damage multiple enemies all at once. 
How to unlock new weapons in Swamp Attack?
Unlocking new characters in Swamp Attack can be done by going to store in the game and paying using your game coins. That is not as easy as it seems! You need to complete a lot of levels to get sufficient coins and unlock every character. Not only characters but you can also find some interesting weapons to ease your game. 
Flamethrower is your best weapon in the game. Not only it is very effective in attacking enemies at a distance but it is also quite powerful. The only drawback this weapon has that it gets drained very quickly. You should make sure you have it properly refilled. You can also upgrade your FlameThrower so that it can attack both in water and air. 
What happens if a UFO steals my power-ups in Swamp Attack?
This happens very often in the game, but don't worry and simply try to shoot the UFO  whenever it appears and you will get back your powerup. You can tap it to add it back in your collection. Don't waste many bullets on UFO as you have a wave of enemies coming towards you and you have to take care of them as well. 
How do I collect bonus goodies in Swamp Attack?
During each enemy wave, you will see a few rubber ducks appearing in the water. You have to tap them quickly and collect coins and interesting powerups that are added in your overall collection. Be aware and try not to waste a lot of bullets on it. 
Swamp Attack Game FAQs:
Do I need to pay for anything in Swamp Attack?
Sadly, the free-to-play game does require you to plunk down some cash if you wish to keep playing. There's an option to purchase coins, ranging from $0.99 to $24.99, depending on if you want to unlock all the weapons or not, and you'll need to wait for your energy to refill (it uses one shotgun shell per round) for an hour or so or pay for potions. You'll start out with two, but you can try using Swamp Attack Unlimited Coins Mod Apk to play this game without any trouble.
It's not a wallet breaker by any means, compared to other F2P games, but you've been warned – if you become addicted, you might pay a few bucks to continue. 
How do I reload my weapon in Swamp Attack?
Stop shooting for a second, and your character will automatically reload. It's a good process for keeping your weapon locked and loaded.
I'm starting with the shotgun in Swamp Attack. Any advice on how to make its shots count?
There are two things to keep in mind. Number one, the shotgun is a fairly good spread weapon, so aiming for two enemies at once is actually a great tactic, as you can chip away energy on both with one shot. Tap the space between them.
Second, try to time your shots for when enemies are closest to you. This makes your hits more critical as they get closer, though if they get too close, you might get overrun. Time your shots and don't forget to use power-ups!