The term "Utility" is a commercial term that carries the meaning of the total satisfaction received from consuming goods or services. The utility is important to understand and measure because it directly influences the demand and, therefore, affects the overall costs of goods or services.
How Utility Programs can Improve Productivity?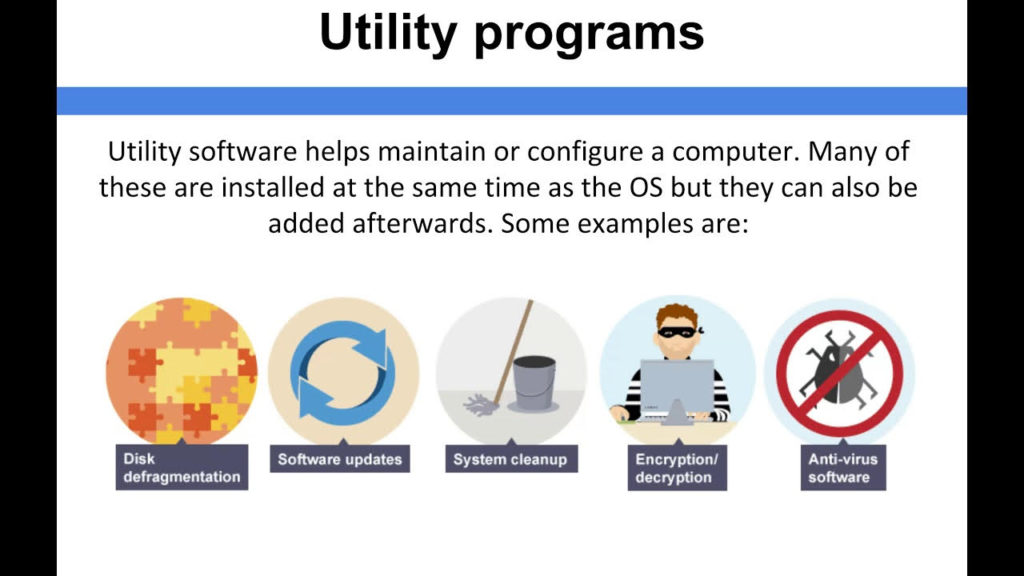 Utility programs are a kind of software that is used to analyze and maintain computers. This software is used to focus on how the OS works and on that basis it performs several tasks to enable smooth functioning of the computer systems. Utility programs coordinate the activities and functions of hardware and software and control the operations of hardware.
Why are Utility Programs Used?
Utility means the usefulness that a user can get from a system. The operating system has got several tools to manage several functionalities, but utility programs can provide them in an improved and better way. These programs boost the performance of your computer and enable it to perform even better.
Some utility programs also keep the computer system free from unwanted elements or applications such as viruses and other malware, while adding functionality that enables users to customize their desktop and user interface. To enhance the working of operating systems, utility programs have to be bought separately, thus making them an integral part of it.
Types of Utility Programs
Some commonly used utility programs are inbuilt in the operating systems. These include –
Antivirus software –

Virus is a type of program that affects a computer negatively by changing the way a computer works normally, without the user's permission. 

 

An

Antivirus is used to protect computers from viruses and malware attacks. The software notifies the users whenever it detects a virus and takes necessary action to secure the computers. The first antivirus program was introduced by G Data for the Atari ST. Some popular examples of antivirus programs are Windows Defender, MCAFEE, etc.

File management software –

A file management software helps us to manage data files that are saved in the computer system. It is used to arrange, organize and access files stored on a disk or other storage locations. An effective file management system improves the overall function of business management. Some of the features are –

To assign queued documents for processing.
To create, copy, modify or delete and perform other file operations.
To generate reports on various details associated with files stored in a computer system.
Disk Management tool –

Disk management tool is another utility program that allows the users to view and manage disk drives on their computers. A disk management software helps to manage the files that are already installed in the computer like hard disks, consisting of both internal and external drives, flash drives and also optical disk drives. It was first introduced in Windows XP as a substitute for the floppy disk command. Some of the famous disk management tools are –
Paragon Partition Manager
MiniTool Partition Wizard
SMART monitoring tools
AOMEI Partition Assistant
Disk Cleanup tool –

While working in a PC for a prolonged time, we often create some extra files that are responsible for slowing down of the computer's processing. Disk Cleanup tool allows users to remove those unnecessary files, thus improving the functionality of the computer. Besides removing the unwanted files, there is an option to compress the files and offline webpages as well. Some of the commonly used Disk Cleanup software include –
Piriform CCleaner
Iolo System Mechanic
Razer Cortex
Disk defragmenter –

When we create files we generally modify, rewrite, or delete them for a number of times and thus they get fragmented in the disk. Disk fragmentation can happen at any time while working on a PC. The disk defragmenter is a type of utility program that rearranges all files that are stored in the computer's disk, thus increasing its speed. Disk defragmenter actually minimizes the time it takes for reading and writing the files to the disk. Some of the disk defragmenters that are generally used are –
Deflaggler
MyDefrag
Perfect disk
Compression tool – The compression

tool is used to shorten the files to compress them within a much lesser space, thus saving the storage capacity of the computer system. By minimizing the amount of storage space that is taken up by the files, a compression tool enables users to store more useful stuff within the minimal space available. Almost every operating system has got both compression and uncompression tools inbuilt within it. Some of the widely used compression tools are –
Final Words
Utility programs are used to manage and control all those application programs that are used with various operating systems, thus managing the total computer system. Utility programs help in the smooth functioning of a computer, thus enhancing the productivity of the operations. This further boosts the success of a business as they are able to manage the completion of more and more tasks in the least possible time. It increases work efficiency and speed, enabling businesses to meet deadlines and increase annual revenue.