Smartphones have completely transformed how we communicate. Gone are the days when there were only a few video call apps for iPhones; now we have an abundance of communications apps in the App Store.
It's now effortless to connect with friends and family anywhere in the world using numerous free chat apps for iPhone. Making video calls on your iPhone has never been this easy and free.
Advanced Communication Tools for iPhone Users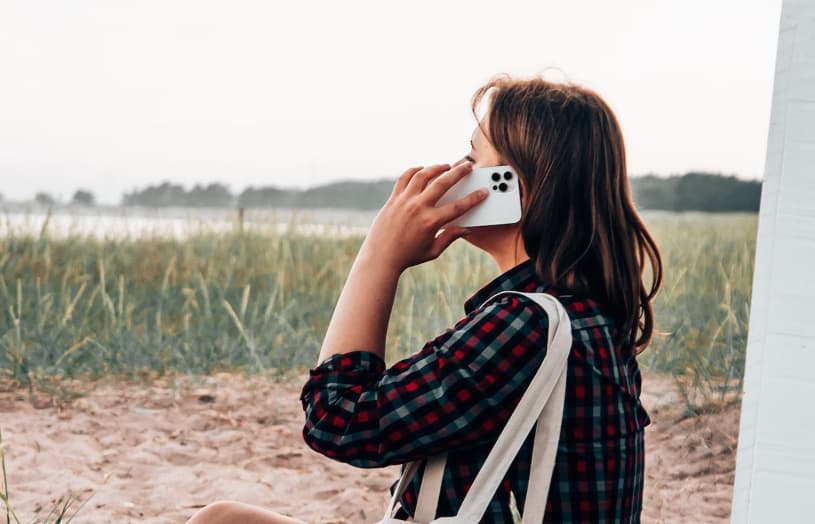 If you want to explore a curated list of top-notch calling apps available for iPhone to contact your friends, family, or business partners, let's take a look at the available tools.
Top 7 Best Call Apps for iPhone
With over 100 million registered users, Facebook Messenger stands as one of the most popular apps to date. It offers a seamless video calling experience and makes chatting with all your friends at once even more enjoyable through group video calling.
Group video calls are also highly convenient. Other intriguing features include Instant video, Instant games, Secret Conversation, and more.
If you're seeking a top-notch, ultra-convenient iOS app for video calling, Facebook Messenger is the way to go.
You will love using Telegram, one of the most popular communication apps out there. It allows you to communicate with others instantly, no matter where you are in the world. The name itself perfectly captures its purpose.
With its video chat and GIF options, you can add some excitement to your conversations. You'll find that its features are just as good as those offered by other similar apps.
Many of these programs include a feature known as synchronicity, which allows you to use them simultaneously on multiple devices without losing any data.
This is especially useful for those who frequently switch between gadgets. If you're looking for reliable software to keep your team organized and satisfied, Telegram is an excellent choice.
#3 Call Recorder for iPhone
Call Recorder for iPhone allows you to save call recordings and listen to them at any time. If you use the iPhone app to record phone calls, you can free up time, since you won't have to ask for details many times and record them somewhere.
You have access to the records at any time. If you don't know how to record phone calls on an iPhone, then don't worry about it. To record a phone call, just go to the application and start recording. This requires 1-2 seconds.
You can experience the expansive capabilities of Google by using Google Hangouts on both Android and iOS platforms.
This messenger app combines seamlessly with Gmail and Google Plus, making it a universal messaging platform. With Google Hangouts, you can enjoy features like audio and video calls, text messaging, file sharing, and even video streaming.
It allows you to make video calls with up to 10 people simultaneously. All the images shared during your video calls are automatically stored in a Google Plus album for your convenience.
Discord is an exceptional platform. While its initial development targeted gamers, it has now found extensive use among online communities rather than businesses.
The integration options are mostly offered by third-party bots since few features are business-specific. However, Discord's outstanding always-on audio functionality makes it suitable for corporate conversations.
Like other team chat apps, Discord offers text channels. You can create as many channels as you need, and threads allow for further segmentation of discussions.
The main highlight, though, is the voice channels, which enable continuous phone conversations with your entire team. You have the option to keep your microphone off and press a key whenever you want to speak.
Apple FaceTime serves as the default-free chat app for iPhones and is accessible to every iPhone user. With FaceTime, you can communicate with anyone worldwide who possesses a Mac, iPhone, iPod, or iPad.
Furthermore, you can record video calls made through FaceTime for future reference. The new continuity feature, introduced in iOS 9+, allows you to seamlessly continue a voice call across interconnected iOS devices without any interruptions.
You can integrate team collaboration tools and video conferencing software through Microsoft Teams. Join or initiate group chats, conduct conference calls, exchange files via SharePoint, and more using these top-notch communication apps.
Microsoft Teams offers three price categories to choose from. The first option is a free subscription, which provides the same functionality as the other two levels but lacks management tools like analytics and access to on-premise servers.
Additionally, you'll receive support options such as round-the-clock phone and web assistance. The second and third categories depend on your company's size and conferencing requirements.
Businesses can opt for Office 365 E3, starting at $20 per user per month with an annual commitment, while "Office 365 Business Premium" begins at $12.50 per user per month with an annual commitment.
Also Check: Whatsapp Says Call Declined – Meaning / Fix It
Conclusion
Making an iPhone video call for work or personal purposes is as easy as shelling pears. These are the best calling apps, including one for recording calls.
Choose your options for communication tools and always stay connected.