As a truck driver, you know that weather can make or break your route and schedule on any given day. An unexpected storm system or flash flood could force you to take a major detour or pull over until it passes.
That's why having access to frequent, hyper-local weather updates is so critical for truckers.
But with hundreds of weather apps available on Android and iOS, how do you know which one is the best weather app for truck drivers?
I've tested and reviewed the top contenders so you don't have to.
Best Weather Apps for Truckers 2023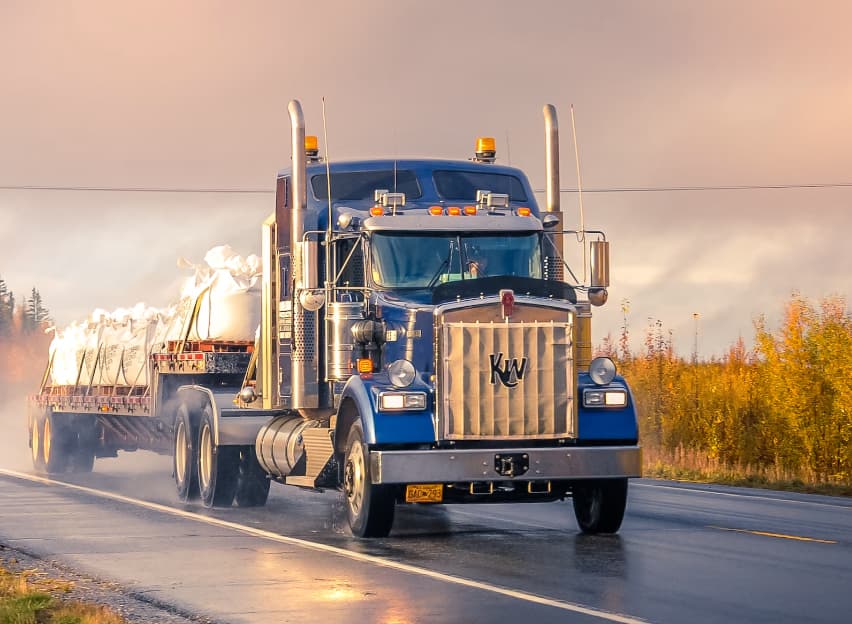 Below I share the 5 best weather apps for truckers in 2023. I break down the key features, strengths, and limitations of each app and provide direct links to download them on Android or iOS.
#1: The Weather Channel
The Weather Channel app is one of the most popular and widely used weather apps for good reason. It provides detailed current conditions and forecasts on an hourly, daily, and weekly basis. I especially like The Weather Channel app for its interactive weather maps and Doppler radar imaging. It's easy to quickly see where storms and hazardous conditions are located along your route.
Pros
Available for free on Android, iOS, and Windows Phone
Hourly, daily, and 10-day forecasts
Interactive weather maps with Doppler radar
Customizable alerts for severe weather
Easy to interpret weather data and forecasts
Social media integration
Cons
Contains ads (no paid ad-free version)
Radar images can have a slight delay
Less localized forecasts versus other weather apps
Pricing
Download Links
---
#2: The National Weather Service
The National Weather Service app is a great option for getting an instant overview of weather watches and warnings across the entire U.S. I like using it for trip planning to quickly check for hazardous conditions anywhere along my route. It's fast and easy to zoom in on certain cities or regions to monitor developing storms.
Pros
Free with no ads or paid version
Great for quickly checking weather warnings nationwide
Easy to customize alerts for multiple locations
Provides forecast data directly from the National Weather Service
Cons
Very basic forecasts – less detailed than other apps
Radar imaging is basic and low-resolution
Data is not as frequently updated as some apps
Pricing
Download Links
---
#3: Storm Shield
Of all the weather apps I tested, Storm Shield stands out for its severe weather alerts based on your exact GPS location. Rather than county-level alerts, Storm Shield uses precision tracking to keep you updated on storms, tornadoes, lightning, and other threats near your position. It's the best app for receiving urgent hazard alerts while driving.
Pros
Highly precise severe weather alerts
Alerts tailored to your GPS location
Detailed animated radar and weather maps
Covers the entire United States
Cons
The free version has limited alerts
Additional alert categories require a paid subscription
UI can be busy with many data overlays
Pricing
Free version with limited alerts. The full premium version is $9.99 annually.
Download Links
---
#4: Weather Underground
Weather Underground is the weather app of choice for many truckers thanks to its extremely localized forecast data. It leverages a network of over 250,000 personal weather stations to generate hyper-local weather reports and forecasts. I've found its forecasts to be more accurate than other apps, especially in rural areas.
Pros
Uses data from personal weather stations
Very accurate hyperlocal forecasts
Specialized forecasts for truckers
Customizable alerts for hazards
Easy-to-understand weather reports
Cons
Radar imagery is not as advanced as some apps
Requires paid subscription to remove ads
Pricing
Free with ads. Ad-free version is $1.99 annually.
Download Links
---
#5: AccuWeather
AccuWeather is one of the most popular weather apps thanks to its MinuteCast feature which provides minute-by-minute precipitation forecasts for your exact location. I like it for hyper-local and extremely precise rain and storm forecasts along my planned route.
Pros
MinuteCast provides very localized precipitation forecasts
Option to receive alerts from multiple saved locations
Easy-to-understand weather information
Customizable real-time alerts for rain, snow, storms, etc
Cons
Have to pay to remove ads
Radar resolution is not as high as some apps
Forecast accuracy trails some competitor apps
Pricing
Free with ads. Ad-free version is $3.99 annually.
Download Links
---
#6: MyRadar Weather Radar
MyRadar Weather Radar is a favorite among truck drivers for its uncluttered, easy-to-understand radar maps and severe weather alerts. The app offers high-resolution animated weather radar images and allows you to control the smoothness of the radar imagery.
MyRadar also includes a handy "Road Trip" planner to check for weather trouble spots along your route. This is a great radar-focused app for truckers looking for a simple, straightforward weather app.
Download Links
---
#7: SnailTrail – Trucker Weather
As the name implies, SnailTrail is a weather app built specifically for truck drivers. It focuses on providing extremely localized forecast data and alerts tailored to your route.
SnailTrail also integrates with popular trucker apps like Trucker Path to provide enhanced mapping of weather conditions along your route.
For truckers looking for a weather app made exclusively for drivers, SnailTrail is worth checking out.
Download Links
---
Key Features to Look for in a Weather App for Truckers
When evaluating weather apps for professional drivers, keep an eye out for these key features:
Hyperlocal forecasts – The app should provide forecasts for your exact location using GPS, not just general regional data. Look for apps that incorporate crowdsourced data from local weather stations.
Precision tracking of hazards – The best apps will alert you to approaching storms, heavy rain, snow, hail, lightning, and other threats that are heading specifically toward your truck, not just in the general vicinity.
Animated radar mapping – Look for radar imagery that is smooth, detailed, and zooms in on your location. The radar maps should vividly depict where storm systems and inclement weather are located.
Route-based trip planning – The ability to analyze weather conditions along your planned driving route is extremely valuable. The app should make it easy to check for hazardous spots on your journey.
Driver-focused interface – Avoid apps with overly complex or cluttered interfaces. Look for clean, visually straightforward weather data optimized for at-a-glance viewing while driving.
Reliable alerts – Ensure the app has flexible customization of weather alerts. You should be able to fine-tune alert frequency and parameters to avoid alert fatigue.
By keeping those features in mind as you try different weather apps, you'll have the best chance of finding one that delivers the detailed, driver-centric weather intelligence you need to navigate stormy weather safely and efficiently. Drive safe out there!
More Useful Apps for Different Purposes: