In today's digital age, it's easier than ever to keep track of your important medical records right from your smartphone. Having quick access to your health information can be crucial in medical emergencies or when seeing a new doctor.
Best Medical Records Apps for Android & iOS USA 2023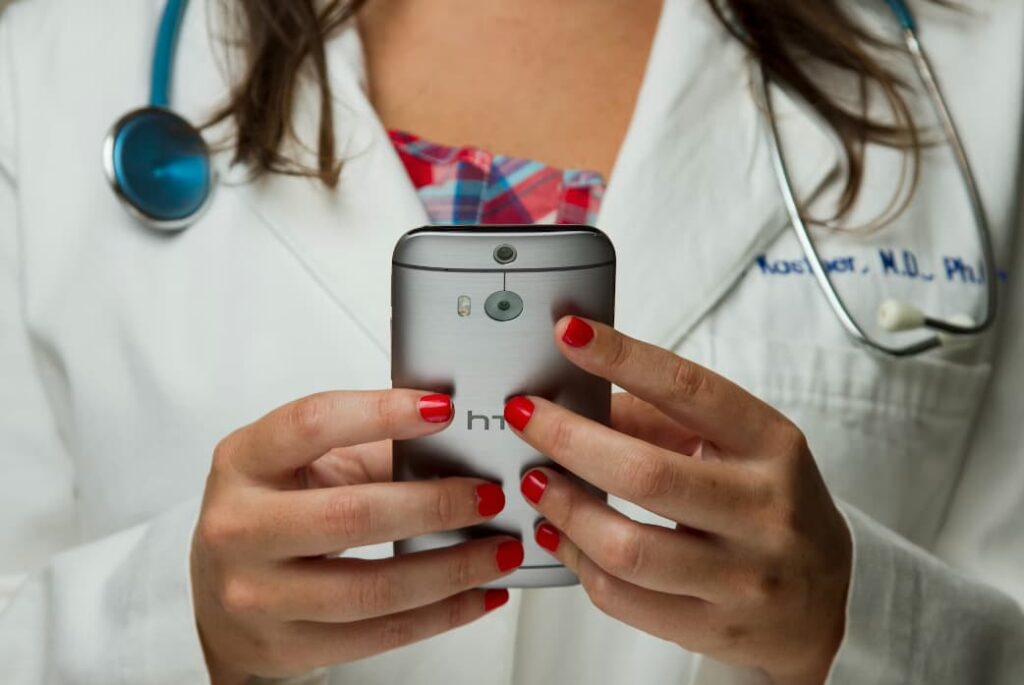 In this article, we'll look at the best apps available to help you organize and access your medical records on the go.
Why Keep Your Records On Your Phone?
There are several key benefits to keeping your medical records easily accessible on your mobile device:
Convenience – You can pull up your information anytime, anywhere instead of fumbling for papers. This is especially helpful when providing prescriptions to a pharmacy, checking in at medical facilities, or keeping track of upcoming appointments.
Prevent Loss – Paper records can easily be misplaced, damaged, or lost over time. Keeping an electronic copy prevents this issue.
Portability – It's difficult to keep paper copies with you at all times. With a smartphone app, you have access 24/7.
Space Saving – Medical records pile up over time and take up storage space. Apps keep things digital and minimal.
Emergency Access – In a medical crisis, doctors can quickly access your health background and emergency contacts. This could save critical time.
Top 11 Best Medical Records Apps to Download on Android & iOS:
There are a variety of great options when looking for a medical records app for your phone. Here are some top picks with expanded details:
1. MyID
MyID lets you store unlimited medical information for free, including emergency contacts, allergies, medical conditions, images, lab results, and organ donor status. It creates a QR code to quickly share this data with emergency responders.
The $1.99/month premium version adds medication reminders, document sharing, and emergency contact notifications.
Best For: Those looking for a free and simple app to quickly share medical info in emergencies.
Key Features:
Store unlimited health records.
Create a sharable QR code.
Add emergency contacts.
Premium version with reminders and sharing.
Reasons to Download:
Free basic version.
Simple to set up a Medical ID.
Easy emergency access via QR code.
Additional features with paid subscription.
---
2. Apple Health
Platform: iOS
Pre-installed on iPhones, the Apple Health app seamlessly tracks your health metrics using data from your iPhone and Apple Watch. You can record medical conditions, medications, allergies, immunizations, and more.
With an Apple Watch, it also tracks fitness and activities. The Medical ID feature gives emergency personnel quick access to your critical info.
Best For: iPhone users who want seamless integration with Apple Watch and other apps.
Key Features:
Pre-installed on iPhones.
Syncs data from iPhone, Watch, and third-party apps.
Medical ID for emergency access.
Activity and workout tracking.
Robust health dashboard.
Reasons to Download:
Already on your iPhone.
Deep Apple ecosystem integration.
Intuitive tracking of vitals, meds, and conditions.
Emergency access for first responders.
Comprehensive health overview.
---
3. My Health Records
This app by PrognoCIS gives you access to prescriptions, lab reports, immunizations, appointments, and more. You can also message your doctor and book appointments within the app.
Best For: Those who want appointment management alongside medical record access.
Key Features:
Prescription details and renewal requests.
Lab reports, and immunization records.
Book and track medical appointments.
Direct messaging with your doctor.
Reasons to Download:
Robust medical records access.
Appointment scheduler integrated.
Doctor messaging for quick questions.
Organized timeline of your health data.
---
4. MTBC PHR
MTBC PHR securely stores your medical history, medications, allergies, immunizations, and test results. You can book appointments, upload lab reports, and message your doctor through the app.
Best For: Comprehensive medical records tracking with appointment scheduling.
Key Features:
Medical history and medication list.
Appointment booking and tracking.
Test results and lab report uploads.
Direct provider messaging.
Reasons to Download:
Robust organization of health records.
Streamlined appointment management.
Share test results and reports with doctors.
Simple provider communication.
---
5. My Medical
Platform: Android
My Medical keeps track of traditional records plus additional info like emergency contacts and insurance. You can update instructions for first responders and back up data remotely.
Best For: Comprehensive health profiles beyond just standard medical records.
Key Features:
Traditional records plus emergency contacts, insurance, etc.
Custom first responder instructions.
Remote data backup for security.
Records for the entire family.
Reasons to Download:
More complete health profile information.
Tailored guidance for emergencies.
Automatic cloud backups for data protection.
Track records for your whole family.
---
6. Capzule PHR
Platform: iOS
In addition to medications and history, Capzule PHR lets you log health metrics like weight and blood pressure. It provides reminders and syncs with cloud storage for backup.
Best For: Tracking health metrics alongside traditional medical records.
Key Features:
Medication lists and medical history.
Logging for vital signs and measurements.
Reminders for appointments and medications.
Syncs with Google Drive and Dropbox.
Reasons to Download:
Standard records plus extra health metrics.
Handy reminders for medications.
Easy cloud syncing for backups.
Intuitive timeline view of health changes.
---
7. GenieMD
GenieMD facilitates remote doctor appointments via video visits. It also stores your medical history, medications, glucose levels, and more. You can set medication reminders and track what you've taken.
Best For: Those wanting records alongside telehealth appointments.
Key Features:
Video visits with healthcare providers.
Medication reminders and tracking.
Robust records of health history and vitals.
Share records with your doctors.
Reasons to Download:
Virtual doctor's appointments.
Medication management features.
Complete medical history available.
Share health data with your physicians.
---
8. MyChart
MyChart by Epic Systems lets you manage your and your family's health records, appointments, test results, and more in one place. You can connect with multiple healthcare organizations to access all records.
Best For: Comprehensive health management for the whole family.
Key Features:
Family health records in one place.
Appointments, test results, and notes.
Connect to multiple healthcare organizations.
Message doctors and care teams.
Reasons to Download:
Consolidated family health data.
Scheduling and health records access.
Share records across healthcare providers.
Simple provider messaging.
---
9. Dr. Pad
Dr. Pad helps doctors organize patient information. Store patient profiles, history, lab reports, notes, medications, and more. Access test results and generate PDFs of records.
Best For: Doctors and medical professionals to track patient data.
Key Features:
Robust patient profile building.
Medical history, notes, test results logging.
Medication tracking and templating.
PDF export of patient records.
Reasons to Download:
In-depth patient health profiling.
Access and share test results.
Medication management capabilities.
Generate shareable PDF records.
---
10. Be Healthy
Platform: iOS
Be Healthy provides a simple interface to track healthcare records. Log your family's info and get medication reminders. It also includes tools like a health calculator for BMI, weight goals, and more.
Best For: Basic medical ID and health metrics tracking.
Key Features:
Profiles for all family members.
Medication reminders.
Health calculator for BMI, calorie intake, etc.
Basic medical records logging.
Reasons to Download:
Family health profiles.
Handy medication reminders.
Extra health calculators for fitness.
Simple, user-friendly interface.
---
11. SynappseHealth
Platform: Android
SynappseHealth records your metrics, diagnoses, and medications on a health timeline. It provides health tips and a medical library to look up symptoms and conditions.
Best For: Health education alongside record keeping.
Key Features:
Track vitals, diagnoses, and medications over time.
Health tips and recommendations.
Robust medical library and glossary.
Visit recommendations based on health data.
Reasons to Download:
Timeline view of health changes.
Guidance to improve health.
Reference information on conditions.
reminders for recommended doctor visits.
What to Include in Your Medical Records App?
Your personal health record (PHR) app can include a variety of important medical information:
Identification: Name, birthdate, contact information, blood type.
History: Conditions, surgeries, allergies, immunizations, family history.
Medications: Current and past meds with dosages and prescribing doctor.
Providers: Doctor's names and visit dates.
Test Results: Blood tests, imaging scans, etc.
Vital Signs: Blood pressure, weight, glucose levels.
Lifestyle: Diet, exercise, smoking status.
Advance Directives: Living will, DNR order.
Insurance Information: Policy details.
Notes & Journals: For symptoms, questions.
Appointments: With reminders.
Attachments: Photos or recordings related to health concerns.
Frequently Asked Questions
What is the best iPhone app for medical records?
The pre-installed Apple Health app is the best way for iPhone users to access their records. It syncs with the Apple Watch and various health apps.
Can the iPhone track my health data?
Yes, through the Health app paired with an Apple Watch, the iPhone can track numerous health metrics including exercise, vital signs, medications, lab results, and more.
Are there any apps to organize medical records?
Yes, there are many apps available for both iPhone and Android. Top options include Apple Health, MyID, My Health Records, MyChart, and Dr. Pad. These help you access records anytime and get reminders.
What should I include in a medical records app?
Important information to include covers identification, medical history, medications, test results, insurance details, healthcare providers, appointment reminders, and health notes or journals.
The Benefits of Going Digital with Medical Records Apps:
Keeping your medical records organized through a smartphone app offers many advantages:
Convenience – Records are accessible anytime, anywhere in seconds.
Portability – Lightweight mobile device instead of paper.
Security – Password protection and encryption.
Backup – Apps can sync with cloud storage.
Accessibility – Doctors can easily retrieve your info in emergencies.
Features – Apps provide reminders, health insights, and appointment scheduling.
Eco-Friendly – Cuts down on paper use.
Choosing the Right App for You
With various apps now available, consider these tips when picking one for your needs:
Platform – Make sure the app is compatible with your operating system (iOS or Android).
Cost – Some apps offer free basic features, while advanced capabilities may require a paid subscription.
Ratings & Reviews – Choose a highly-rated app with many positive user reviews.
Provider Access – See if your healthcare providers integrate with any apps to share records.
Syncing – Look for apps that sync across devices or with cloud storage for backup.
Usability – Try out the app to ensure it's easy to navigate and input your information.
Security – Select apps that encrypt data and require authentication to access.
Support – Check if the app provider offers customer support in case you need help.
Storing Your Records Securely
While going digital has many benefits, it also raises potential security concerns. Follow these tips to keep your data safe:
Use a strong password and enable multi-factor authentication if available.
Make sure your phone is encrypted and set to auto-lock after a short time.
Don't share login credentials or medical info with untrustworthy sources.
Review privacy policies – only use apps that prioritize security.
Disable features that allow public visibility of your records.
Be cautious of public WiFi networks – consider using a VPN.
Update your phone and apps regularly to get the latest security fixes.
Back up your data in case your phone is lost, stolen, or damaged.
More Useful Apps:
Conclusion:
Having quick and easy access to your medical records through a smartphone app provides significant convenience and organization.
Whether you want to share info during an emergency or simply keep better track of medications and appointments, there are great options available on both iPhone and Android devices.
Look for a highly-rated app that syncs across your devices, provides useful features like reminders, and most importantly, keeps your data totally secure.
With your medical records in the palm of your hand, you'll stay better informed and in control of your health.