Renting a car has become a new norm for people living in major cities worldwide, and apps to rent cars are the way to do it. As the world progresses towards the new tomorrow, people are looking for ways to reduce their liabilities and get the best experience without spending a lot of money.
Top 10 Best Car Rental Apps in USA 2023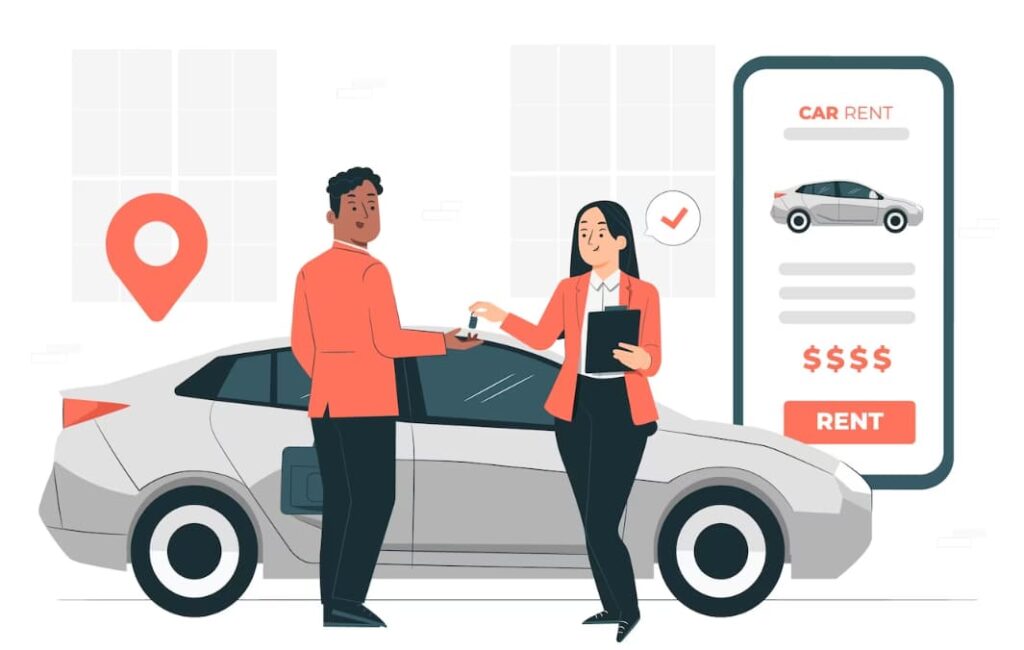 In this article, we will share the top 10 car rental apps you should download in 2023.
Our Top Picks
Getaround – Best car rental app
Turo – Best car rental app
Hertz – Best car rental app
Enterprise Rent-A-Car – Best rental car app
Kayak – Best rental car app
10 Best Car Rental Apps in USA 2023
Renting a car makes keeping a car a very easy task for the user. There is no need to pay the heavy cost to buy the car or spend hundreds of dollars on its maintenance.
And what if you have an accident? Maybe the insurance will kick in, but you will have to spend a huge sum even before taking your car to the workshops for repairs.
Renting a car not only takes away the cost of buying vehicles but also allows users to forget about the maintenance costs.
There are many rental car services available and offer more value than others. We can help you decide which car rental service is best for your needs.
1. Getaround – Best car rental app
Getaround is a car-on-demand service that offers millions of users daily drivers around the world. The service allows users to rent cars by hour or by day and pick up or drop off the vehicle at any of their centers.
The app also offers amazing value to car owners by enabling them to earn 1000s of dollars. It also offers cars from multiple makes like Toyota or Tesla.
You can find a car for rental as low as USD 5 per hour. Go on trips, run errands, or commute on weekends, Getaround is the perfect app for you.
Top features of Getaround
Get cars for $5/hr
Instant booking from nearby
Unlock the car and go
Select from several makes and models
Download the Getaround app for:
---
2. Turo – Best car rental app
Turo is used as a car rental service in 5000+ cities. You can use the app to mark delivery and pickup locations for your preferred vehicles to get delivered.
Currently, 800+ models are existing at the portal for you to choose from.
After the booking, you can contact the host anytime to check the delivery status.
Top features of the Turo App
Use Turo to rent cars of your choice anytime you want
The network is spread into 5,000+ cities
There are 800+ models for you to choose from
Add your vehicle and earn up to $1,000 per month
Manage your vehicles and keep track of your activities as a host
Download this one of the best motor vehicle apps for:
---
3. Hertz – Best car rental app
Hertz is one of the best rental car apps with amazing features to make your trip convenient.
With Hertz, you can book a car in a few moments without any face-to-face conversation or transfer of documents.
The app can also be used to modify or cancel the rental. You can also use the app to find a location or redeem any rewards.
Top features of Hertz app
Fastest and easiest rental
Navigate the app effortlessly
Get special offers
Find parking near you
Download the Hertz app for:
---
4. Enterprise Rent-A-Car – Best rental car app
Enterprise Rent-A-Car is a personal assistant that will make renting a car easy for you. It's your free assistance for anything related to rent-a-car.
Make a booking via voice command, or modify the booking according to your needs. There are more than 7800 rental branches on Enterprise which you can locate via maps.
You can also call roadside assistance in case of any mishappening.
Top features of Enterprise Rent-A-Car
Your assistance with everything rental
Search vehicle by class
+7800 worldwide locations
Quickly manage and change reservations
Download the Enterprise rent-a-car app for:
---
5. Kayak – Best rental car app
Kayak is a rental service that offers users amazing deals on hotels, flights, and car rentals. The app is a great way to go on a trip, as it covers all the aspects of your journey.
From booking a flight ticket to booking a hotel and a car, Kayak will help you every step of the way. You can also select flexible dates and plan a journey.
Top features of the Kayak App
Unlock private deals
Find the best deals for cars, air tickets, and hotels
Pick a destination and plan your trip
Book in advance
Download the Kayak App for:
---
6. Zipcar – Best rental car app
Zipcar allows you to rent cars and vans from your nearby area and book them for your trip.
The app allows users to select a vehicle according to their needs and also enables users to unlock the car via the app.
The app informs users about gas mileage, dedicated parking, insurance, and other reservations.
Top features of the Zipcar app
Book a car by hours or by days
Choose from all kinds of vehicles
View upcoming reservations
Get directions easily
Find gas stations and other utilities
Tap to speak to the Zip team
Download the Zipcar app for:
---
7. Skyscanner – Best rental car app
Skyscanner is one of the best apps to plan your trip from one place. The app offers options to book flights, hotels, and cars. Skyscanner is known for offering amazing deals and best service to their users.
You can get discount coupons, reductions in fees, and other rewards.
The app also does not apply any booking fee or penalty on cancellation.
Top features of Skyscanner
Book your whole trip
Find the best value
Get the hotel booking
Get amazing deals and discounts
Download the Skyscanner for:
---
8. SIXT – Best rental car app
SIXT is a flexible car rental and ride-sharing app that allows the user to travel with ease by spending chums.
The app offers multiple options, here you can share a ride with a car owner and complete your journey without spending higher costs or bearing the hassle of driving.
The app offers its services in more than 100 countries and is hailed worldwide.
Top Features of the SIXT app
Digital Entry, unlock the car via the app
Worldwide ride support
Car sharing made easy
Car hire by filters and other markers
Download the SIXT App for:
---
9. RelayRide [Now Turo] – Best Rental Car App
RelayRide is an amazing car rental app that offers reliable and safe car rental services. From your small trips to weekend escapes, this app will get you to ride for all your needs.
The text messages and other notifications keep you informed about the trip.
The app monitors your activities 24*7 and offers help in case of any emergency.
Top features of the RelayRide app
Full monitoring
Safe and reliable
Text message notifications
Ride history and details
Download the RelayRide app for:
---
10. Silvercar [Audi on demand] – Best Rental Car App
Silvercar is a rental car service from Audi, a German car manufacturer. The app has rewritten the rules of rental car services with the amazing value it offers.
Every Car they offer is a fully loaded silver Audi. The app puts premium and fast car rental services on your tips.
Just install the app and drive the amazing cars wherever you go.
Top features of Silvercar
Find, book, and drive Audi
No waiting to get the car
Fair fuel and toll practices
Hassle-free return
In-car Wi-Fi, Bluetooth, and other features
Download the Silvercar app for:
If you are planning a trip, we will suggest you try these top car rental apps. Some of the car rental apps mentioned here will take care of your entire trip, from air tickets to hotels and cars, you will find all your solutions in one place.
We will strongly recommend you try the apps we have mentioned above. We are sure you will find the perfect app for your car rental needs.
Tips to Get the Best Car from Rental Apps
Compare prices across apps to find the best deal. Rental rates can vary a lot between apps, so take the time to check prices on a few different apps before booking. This can save you serious cash!
Look for discounts and coupon codes to save money. Many rental apps offer promo codes, membership discounts, and other special offers to reduce your total rental cost. Always search for available deals before finalizing a reservation.
Book early to secure the availability of your preferred car model. Apps only have a limited supply of each vehicle type. Booking your rental far in advance gives you a better chance of getting the exact make and model you want.
Opt for unlimited mileage if you're traveling far. Most rentals limit the number of miles you can drive for free. Paying a little more upfront for unlimited miles can end up saving money on long trips.
Consider fuel options carefully. Prepaying for a full tank or returning with a full tank is often cheaper than letting the rental company refuel for you at inflated prices.
Precautions to Take Before Picking Up Your Rental
Thoroughly inspect the exterior and interior and note any prior damage on the rental agreement. Don't miss any existing scratches, dents, or other issues.
Check that the gas tank is completely full if you opt not to prepay for fuel. This prevents surprise refueling charges.
Verify you are getting the exact car make, model, color, and features you booked. Don't leave with the wrong vehicle!
Take dated photos showing the condition of the car from all angles, in case disputes arise when you return it.
Confirm rental dates/times, mileage allowance, insurance coverage, and other details that match what you booked.
Ask for instructions on any unfamiliar car features, controls, or options to avoid issues later. Don't be afraid to ask!
Check for cleanliness, proper seat belts, spare tire, jack, and other tools before driving off the lot.
Tips for a Smooth Rental Experience
Know the rental company's operating hours to avoid late fees for returning the car. Don't get stuck with an extra day's charges.
Refill the tank yourself before returning if you didn't prepay for fuel. Rental company refueling fees are ridiculously high.
Remove all personal items and trash from the car before returning it. Don't leave your belongings behind!
Note any new damage on the car at dropoff and report it to the agent. This avoids unfair blame later.
Keep your rental agreement paperwork after returning the car in case issues arise.
Save gas station receipts if you need to verify fuel charges on your bill.
Take photos of the odometer at pickup and dropoff to document mileage.
Rate and review your rental car experience for others. Your feedback helps improve rental apps.
---
Also Check:
---
Frequently Asked Questions
How does renting through an app work?
Renting through a car rental app is very convenient. You can browse vehicles, book a rental, and manage it all electronically through the app. No need to visit a rental office! Just unlock the car via the app and drive off.
What are the age requirements for renting a car?
Most car rental companies require renters to be at least 21-25 years old. Some apps allow younger drivers for an added fee. Be sure to check the app's age policy.
Do I need a credit card to rent through an app?
Yes, you'll need a valid credit card in your name to book a car rental through an app. Debit cards are not always accepted.
Can I rent a car as a new driver?
Absolutely! Many rental apps are happy to rent to new drivers. Just be aware that additional daily fees may apply for drivers under 25.
Do car rentals come with insurance?
Rental cars come with basic liability insurance but collision coverage varies. Be sure to check your options for Collision Damage Waiver (CDW) and other protection.
Are taxes and fees included in rental prices?
No, base rental rates advertised usually don't include taxes and fees, which can add a fair amount to your total cost. Be sure to factor them in.
How far in advance should I book a rental car?
For the best rates and car availability, try booking at least 1-2 months in advance if possible. Last-minute rentals tend to be pricier.
Can I modify or cancel my rental car reservation?
Most apps allow free cancellation or changes to your reservation outside 24-48 hours of pickup. Within that window, you may incur fees. Check policies.
Is mileage limited for rental cars?
Unless you pay for unlimited miles, most rentals include free mileage up to a limit (ex. 100 miles/day). Extra mileage is charged per mile after that.
Are rented cars cleaned and disinfected?
Yes, reputable companies clean and disinfect all high-touch areas in vehicles between rentals as part of their COVID-19 precautions.
Conclusion:
Renting a car through an app makes getting around a breeze while saving you money and hassle. With so many great options, you can find the perfect rental car for any occasion.
We highly recommend using one of the apps on our list for your next car rental need. Following our tips will ensure you get the best rate and ideal vehicle every time.
The convenience of booking in seconds, unlocking cars via your smartphone, and seamlessly managing reservations puts rental car apps way ahead of traditional rental counters. Drive off happy in the rental car of your dreams!
Have an amazing trip and safe travels! Let us know if you have any other questions – we're always happy to help fellow travelers. Share your own rental app experiences with us too.